An important part of the work of Amigos Bravos includes translating our experience and knowledge-gained to the beneficial use of community groups and other organizations doing water-related work.
Amigos Bravos empowers individuals and communities to protect and restore the waters in their own backyards through broad-based engagement of affected communities. Key components of these efforts include youth education and public outreach events, hands-on water sampling trainings and water quality monitoring, technical assistance on Clean Water Act implementation, coalition-building, strong advocacy efforts in the New Mexico legislature and state courts, and implementation of our Strategic Plan — each of which generates leadership for future campaigns.
We inform the public or our work on specific issues through broad-based community engagement  in affected communities carefully planned and targeted public and media outreach campaigns, action alert emails to our membership, and cross channel promotion through our social media channels.
Amigos Bravos works with a very wide range of stakeholders doing water-related work– local communities, farmers, ranchers, acequia associations, Pueblos, sportsmen, environmental groups, government agencies, technical and legal experts, and other professionals.
We firmly believe that this grounding in local community and land-based organizations, combined with our pragmatic agenda of movement building to restore, protect, and sustain our State's rivers, streams, and water is what sets Amigos Bravos apart. It is just such an approach that will build a broad based movement to preserve our health, cultures, recreational opportunities, and livelihoods for generations to come.
2020 – 2024 Strategic Plan
Amigos Bravos' Strategic Planning Retreat in June 2019 was illuminating and productive. We had nearly 50 stakeholders participating in the plan, including staff, Board members, state legislators with a particular commitment to good water policy, representatives from Taos Pueblo and Santa Clara Pueblo, allied organizations working to protect and conserve New Mexico's environment, regulators, and representatives from the land-based community and US Forest Service.  We re-affirmed that our partners are vital to our success. There was also strong support for increasing our outreach and education work. The staff and Board of Amigos Bravos are working together to take the valuable input we received at the Strategic Planning Retreat to create our next five-year strategic plan by spring 2020.
Technical Assistance
Amigos Bravos receives numerous calls from community members across New Mexico asking for help and information about how they could protect their water resources. Our assistance ranges from fiscally sponsoring community efforts to directing individuals to the appropriate experts and resources.
Watershed Tours, Trainings and Presentations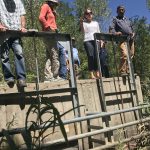 Amigos Bravos receives numerous requests for tours, field trips, and in-class presentations from community groups, schools, and other stakeholders. Topics include Clean Water Act Trainings, watershed tours, water sampling trainings, wetland jewels presentations, and many more. In the last five years the number of requests we get for these activities has been increasing.
More Ways Amigos Bravos is Building a Water Protection Movement: