Rio Fernando Watershed Based Plan and Revitalization Efforts
Amigos Bravos is engaged in a watershed-wide, multi-tiered approach to revitalizing the Rio Fernando, the river that flows through the center of the Taos community. The project blends comprehensive water quality monitoring , watershed-based planning for E.coli, wetland restoration, and collaborative engagement with other working on recreation opportunities, agricultural infrastructure and education.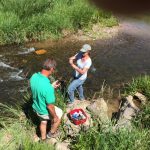 Through a Watershed Based Planning effort Amigos Bravos is working on restoration opportunities to address E. coli contamination in the watershed. 
Amigos Bravos has worked with dozens of volunteers to collect over 300 samples from over 50 sampling locations in the watershed. These sampling results were used to draft a Rio Fernando Watershed-Based Plan that was accepted by EPA in March 2020. This successful three-year effort will now help us leverage Clean Water Act Funding for major restoration projects on the river. We have already submitted one proposal to start a project outlined in the Plan.
Amigos Bravos is also engaged in a groundbreaking collaborative effort to revitalize the Rio Fernando Corridor that involves a dynamic collaborative of individuals, organizations, and government entities including the Taos Valley Acequia Association, US Forest Service, Town of Taos, and Taos County. The collaborative is working to improve water quality and ecological function, restore acequia systems and working land capacity, and connect people to the river and its watershed. The Rio Fernando de Taos Collaborative, successfully secured funding for several key projects.
In the upper watershed we have installed over a mile of low maintenance welded metal top rail fence and built 35 erosion control structures that included fixing four head cuts/incised channels, and a large channel reroute to reconnect the Rio Fernando to the floodplain and reverse the impacts of erosion.
In FY2021, the Rio Fernando de Taos Revitalization Collaborative will continue its efforts to engage the broader Taos community in revitalizing the Rio Fernando watershed.