Amigos Bravos has been working to restore the Midnight Meadows Wetland Jewel Since 2016.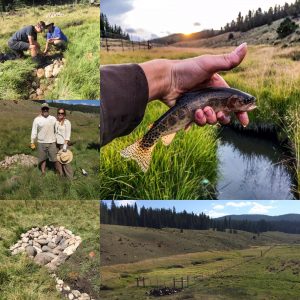 In 2019, Amigos Bravos worked with volunteers, the Albuquerque Wildlife Federation, U.S. Forest Service personnel, and contracted with a wetland consultant to complete a two-year watershed restoration project in the Midnight Meadows Wetland Jewel, located in the Red River watershed.
Over the course of this project to restore high quality headwater wetlands, Amigos Bravos installed 79 erosion and restoration structures including, zuni-bowls, one-rock dams, and rock rundowns, and engaged with over 100 volunteers to restore this important Wetland Jewel.
In addition to those smaller hand-built structures that were constructed by volunteers, we contracted with a wetland consultant, Keystone Restoration Ecology, to install a large machine-built restoration project on a highly impacted area in Midnight Meadows. We also installed and repaired riparian protection fencing along Bitter Creek and adjacent midnight meadows wetlands.