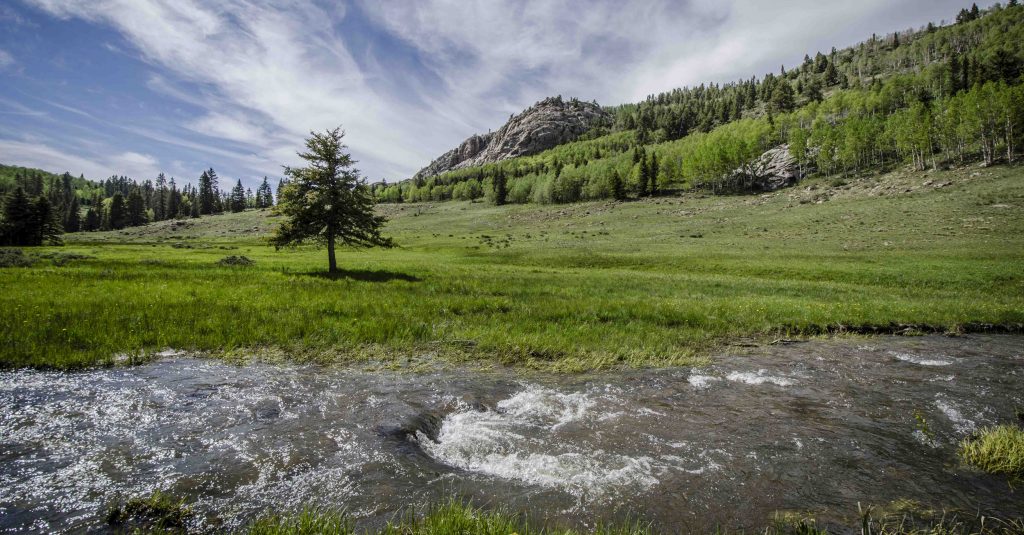 Click here to read view Story Maps about the 22 Wetland Jewels we identified in the Carson and Santa Fe National Forests:
–

Carson National Forest Wetland Jewels
–

Santa Fe National Forest Wetland Jewels
One of the best ways to create resilience in the face of climate change is to protect and restore mountain wetlands. Our wetlands are the sponges of our watersheds. They store water naturally, then release clean water over time that nourishes communities.
Working with wetland and GIS specialists and with input from watershed stakeholders, Amigos Bravos has identified 22 Wetland Jewels in the Carson and Santa Fe National Forests. We have implemented large scale wetland restoration projects in two of the Jewels and plan to expand restoration work to additional areas in the future. In partnership with Western Environmental Law Center, have begun making plans for how to best advocate for special protections under the Carson and Santa Fe National Forest Planning processes for these crown jewels of New Mexico's Rio Grande headwaters.
By protecting Wetland Jewels across north-central New Mexico's national forests, we do some the following:
Wetlands create habitat for wildlife
Wetlands provide clean water for downstream communities
Wetlands mitigate the risk of flooding
Wetlands maintain stream flow essential for irrigation along with wildlife and livestock forage
In the process, we reduce climate impacts such as drought, decreased snow pack, earlier runoff, and wildfire. Wetland Jewels are a keystone element of action to foster resilient, interconnected, landscape-scale ecological and community systems in New Mexico.
Click the bold-faced links to view Interactive Story Maps of the New Mexico Wetland Jewels in the Carson National Forest and Santa Fe National Forests.
Visit our Photo Gallery to see more images of these magnificent Wetland Jewels.